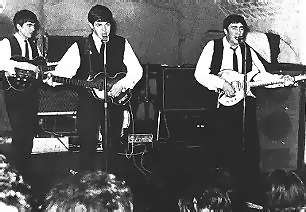 Liverpool 1961. The Beatles playing at the Cavern Club.

The Beatles were undoubtedly the most influential band of the century. In a course of 8 years, they changed not only rock and roll, but also the face of all music forever.

The Beatles could not have happened without Liverpool, where John, Paul, George and Ringo all grew up listening to the rock and roll records of the fifties that merchant seamen brought into the port of Liverpool across the sea from America. And where Liverpool record store owner Brian Epstein first saw the Beatles playing at the Cavern Club in Liverpool in 1961, and knew from the first moment that they would be bigger than Elvis, and made it all happen.